272571 Foldable Maintenance Platform
Manufacturer: Wesco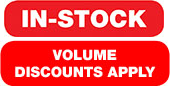 FOB: East Coast Warehouse
Normally ships within 5-10 days

Features:
Four swivel casters: 4" x 1.5" moldon polyurethane.
Fork pockets: 7.75"W x 3.5"H. Centers: 26"

Overall Dimensions:
37.5"W x 81"H x 42.25"D without casters.
37.5"W x 87.25"H x 42.25"D with casters.
If you need a large quantity of this product, call us at 1-800-338-1382 for additional bulk discounts!