Curb Ramp
Manufacturer: Wesco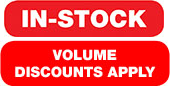 FOB: East Coast Warehouse

Wesco Curb Ramps are lightweight, portable ramps that allow for easy movement up and down curbs. Drop it in the truck and quickly deploy it for all moving jobs.

Capacity: 600 lbs.
If you need a large quantity of this product, call us at 1-800-338-1382 for additional bulk discounts!