Stromberg Aluminum Dock Plates - IN STOCK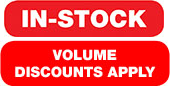 FOB Midwest Warehouse

Built for long life with high-strength aluminum.
Easy to move with built-in handles
Safe, non-slip diamond tread plate
Secures dock plate in place between trailer and dock with bolted on steel legs. Easily reversed for refrigerated trucks
Smooth transition from plate to dock thanks to the beveled edges
One-year warranty
Available in 9 sizes
If you need a large quantity of this product, call us at 1-800-338-1382 for additional bulk discounts!