Stromberg Rack Deck Clearance Bars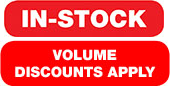 FOB: West Coast Warehouse

Provides support for and access to non-palletized loads and can be used for supporting bulky products. The bars are available in 3 standard rack depths -- 36", 42", and 48" deep.
If you need a large quantity of this product, call us at 1-800-338-1382 for additional bulk discounts!